Buffalo Sprinkler Repair
A working sprinkler system keeps your lawn looking beautiful without putting you through the hassle of watering it on your own. However, what if your lawn system fails to work as it should? Buffalo Sprinkler Repair in the western area of New York is the choice for sprinkler system repair. We understand the environmental factors that can affect the performance of your sprinkler and various issues that can occur due to use and time.
Residential Lawn Sprinkler Repairs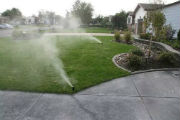 Our team of professional can help you get the most out of your residential lawn sprinklers by offering you top-notch sprinkler system repair. We offer quick turnaround time, quality workmanship and reasonable rates. We will absolutely restore the health of your lawn and your entire sprinkler system. You can always count on us, as we promise to give you our best.
Commercial Lawn Sprinkler Repairs
With many years of experience in sprinkler repair industry, Buffalo Sprinkler Repair is proud to be one of the leading sprinkler repair contractors, which can solve several large commercial sprinkler problems at once. We can diagnose a wide range of commercial sprinkler malfunctions. Our experienced experts are also well trained to handle any sprinkler performance issue.
Our sprinkler system repair services include:
Replacing or fixing broken or leaking sprinkler heads
Sprinkler controls box repair and replacement
Cleaning and repairing clogged nozzles
Repairing broken sprinkler valves
Capping off sprinkler heads
Repairing or replacing damaged or spliced wires
Stopping stubborn running water
Adjusting poor spray patterns and wasted water
Control system wiring and programming
We are a fully licensed sprinkler repair and maintenance company, with insured and licensed professionals who have what it takes to meet your needs 100%. Remember, we service sprinkler systems small or large, and our team is the answer to minor adjustments and complete expansions or overhauls of existing lawn sprinkler system. Contact us today at Huron Sprinklers for sprinkler repair in Buffalo and get a free estimate as you plan ahead.