Victor Lawn Sprinkler Systems
Your lawn is one of the first things noticed by others on your street. A lush green lawn can set the tone for your home and perhaps even your neighborhood. A Victor Lawn Sprinkler System can help you improve the image of your home be the envy of your street.
Our professional and well trained staff will install your Victor Lawn Sprinkler System, taking into account all of its needs. Some of the lawn may need additional water due to poor irrigation of the soil; other parts of the lawn may need a little less. Soil quality also can be a factor and, of course, the size of the lawn and shading are also factors. Our staff will come out and measure your lawn, discuss its needs, determine how many sprinkler heads are required and where they need to be placed. They will then prepare a quote so that all of the requirements are met.
Lawn Sprinkler System in Victor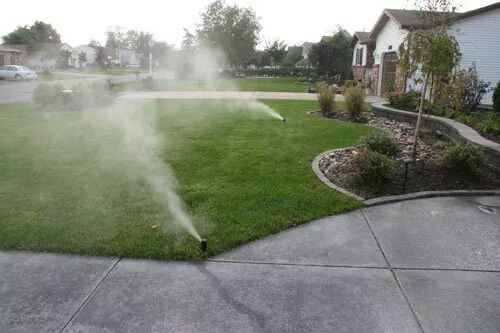 Once the project is approved, our professional staff will expertly complete the installation using only the best and most recent installation procedures and equipment. Once complete, our staff will test the complete Victor Lawn Sprinkler System and then train the home owner on the proper operation of the system.
By using the Victor Lawn Sprinkler System you can save quite a bit of money. Not only will your lawn be watered sufficiently, it will not be over watered either. If the weather in August is wet, you can modify the program so that it does not water your lawn; if the weather is very hot and dry, then it can maintain the correct amount of water going to your lawn keeping it lush and green, and can also be programmed so that it will water the lawn at off-peak times, helping to make sure your water bills are well managed.
Contact Huron Sprinklers for a free quote today.